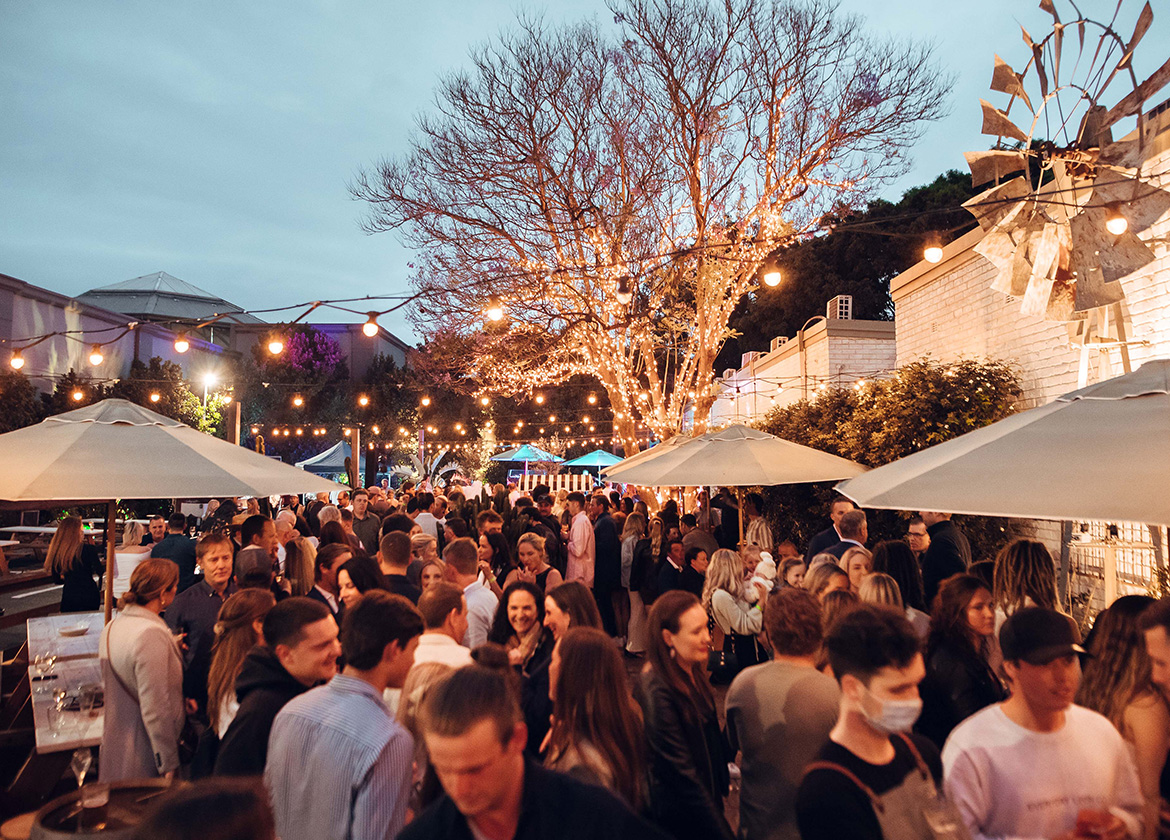 The spacious Richmond Inn features an eclectic mix of personality-filled indoor and outdoor spaces, including the biggest beer garden in the Richmond area. The sun-flooded, dog-friendly space is lush with greenery, with an abundance of high and low seating, oversized pots and modern cacti atop rustic brickwork – the perfect spot to kick back and enjoy a drink from the extensive beverage selection.
The renovation has also created an array of new entertainment areas for guests to explore. Venture through the Front Porch and airy Homestead with its glassed atrium roof, make a stop at the intimate 'Naughty Corner' nook for some privacy, before getting comfortable at a table in the cosy Bistro. The buzzing Public Bar makes a modern statement with its mosaic-patterned floor tiles, deep brass topped bar, cheeky cacti wall mural alongside multiple flat-screen TVs for entertainment.
Function Spaces
For events, The Richmond Inn boasts a dedicated onsite functions manager, catering to a diverse range of function spaces for your next private celebration or calendar date party. A selection of food and beverage packages curated by Chef Sloane is on offer, including both sit-down menus and roaming canape options. Those looking for larger events can reserve one of the outdoor courtyards with exclusive access to their own bar, or book out the Beer Garden to host up to 200 patrons. Parents can also choose to host their kids' events at the Petting Zoo or in The Rumpus Room, and upgrade the party by hiring a popcorn cart or customised ice cream cart.
Function Spaces
The Homestead
80 seated, 120 guests standing
Outdoors, with awning and fans
Combination of high tables and picnics
Suitable for kids
The Lookout
20 seated | 40 standing
Outdoor covered area
Combine with the Bistro for groups of up to 60
Suitable for kids
The Beer Garden
130 seated | 300 standing
Private bar
Umbrellas, heaters and water misters
Mix of picnic tables and high tables
Suitable for kids
The Bistro
15 seated | 30 standing
Combine with the Lookout for groups of up to 60
Suitable for kids
Cactus Lane
30 seated | 50 standing
Outdoor covered area
Combine with The Rumpus Room for groups of up to 80
Suitable for kids
Rumpus Room
50 guests standing
Ball pitt, air hockey
Flat screen TVs, play your own music
Suitable for kids
Main Bar
30 seated | 40 standing
Flat screen TVs & ability to play your own music
Combine with The Naughty Corner for groups of up to 60
Suitable for kids
The Naughty Corner
15 seated | 20 standing
Indoor semi-private space
Combine with the smoker's courtyard for groups of up to 60
Suitable for kids
"Everyone knows there's a naughty corner in every venue… sometimes there's more than one! In tribute to all the naughty corners that are spoken of only in hushed tones, we've officially named ours. Whether you're naughty or nice or somewhere in between, this is the place for you. It is the place to be, and be proud to be, just a little bit naughty!"
Richmond Inn Gallery